Sometimes facts are devastating. That's the case with Pennsylvania's plunging job creation rate.
Pennsylvania created 87,300 jobs in 2010; 46,200 in 2011; 35,000 in 2012; and 5,400 in the first 6 months of 2013. In January 2011 Governor Corbett began his four-year term.
https://twitter.com/KRC_PA/status/370208573705318400/photo/1
To explain that awful trend, look no further than Governor Corbett's assault on education, neglect of transportation, refusal to take $4 billion per year for Medicaid expansion, and attacks on clean energy jobs in energy efficiency, wind, solar and more. To further explain that disastrous trend, look no further than the Governor's failed economic development strategy of relying on the gas industry to bring broad prosperity to Pennsylvanians.
Depressingly, Pennsylvanians job creation gets worse, even as the nation's job growth gets better. Indeed, Governor Corbett's policies are actually destroying jobs that would otherwise be created. The longer Governor Corbett serves, the more damage his policies do to families across the Commonwealth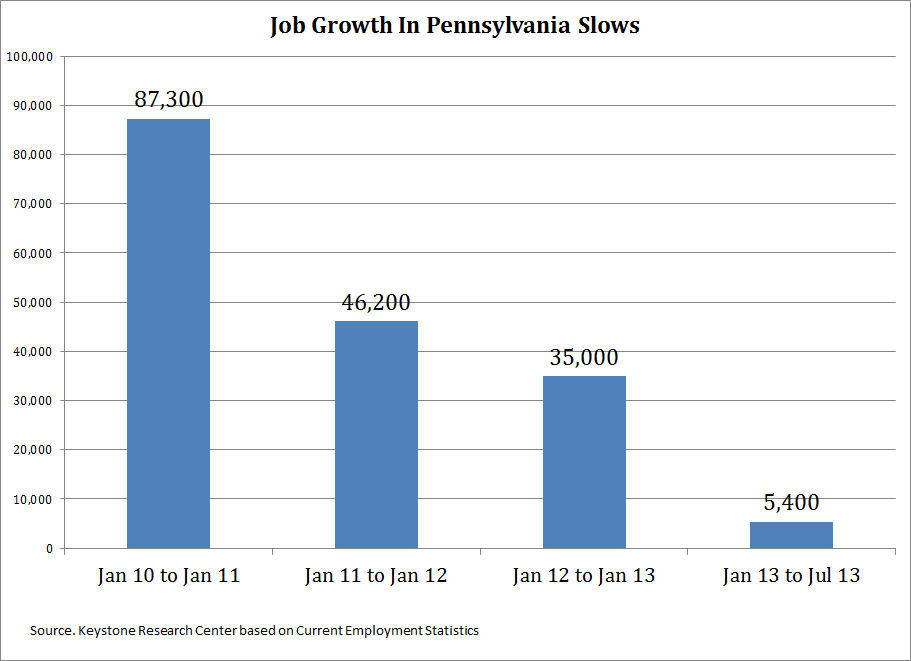 https://twitter.com/KRC_PA/status/370208573705318400/photo/1